News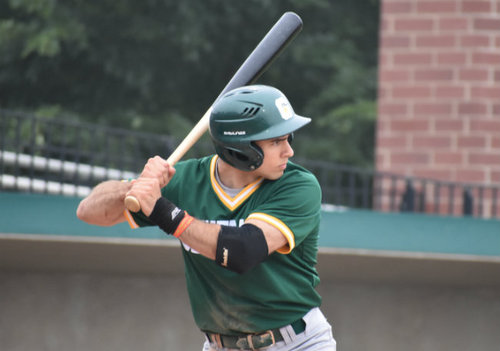 07/03/2019 10:09 PM
-
-By Sam Oppenheim
Joliet, Ill. - July 3, 2019 - Going into the bottom of the eighth, the Joliet Generals held a 6-4 lead over the DuPage County Hounds. By the next half inning, the Generals found themselves down 7-6.
Down to their final out with no runners on base in the ninth, Joliet managed to tie the game and eventually win in the tenth, beating DuPage 8-7.
After his team gave up the lead, Generals manager Matt Vitulli wanted only one thing out of his team.
"We just needed to keep having the same at-bats, same mentality, same approach we've had for the past two and a half weeks," Vitulli said. "One through nine everyone's been having good at-bats."
However, Hounds right hander Andrew Padilla quickly got two outs in the top of the ninth. Then, he was taken out of the ball game in favor of lefty Zac Bianucci. He proceeded to walk Connor Olson (Elgin CC / Wheaton, Ill.), who then advanced to second on a wild pitch.
And right on cue, infielder Danny Borgstrom (University of Evansville / Morris, Ill.) punched a single through the right side to tie the game at seven. But it was not just the bat of Borgstrom that made a difference. Back in the sixth, the MCL Player of the Week made a clutch play by stopping a single behind the second base bag and throwing out a runner trying for home.
"I knew that if he was going home we had a shot," Borgstrom said. "He was just getting to third base and really didn't expect me to make a play there."
After Borgstrom's single tied the game, Seth Quick (Triton College / Lombard, Ill.) held the Hounds scoreless in the bottom of the frame, and the Generals came to the plate looking to continue their momentum.
With one out, Will Krushena (Denison / Bloomfield Hills, Mich.) knocked a single back up the gut. Krushena finished the day with two doubles and two singles.
"Hitting is contagious," Krushena said. "Couple guys found barrels in the game and it helped other guys get going."
When Krushena was on first, Bianucci overthrew a pickoff attempt. Krushena made it all the way to third. Bianucci's control problems continued, with back-to-back walks to Jon Oldman (Aurora University / Dixon, Ill.) and Ben Jung (UW-Oshkosh / Downers Grove, Ill.). With the bases loaded, Nick McAlister (Southern Illinois / Homewood, Ill.) blooped a single to right field to score Krushena.
On the mound, Quick remained solid. He allowed one out walk but nothing more, grabbing a win in a 8-7 victory for the Generals.
"Right now, we're just figuring out who we are as a team," Vitulli said. "In these past two weeks, we've gotten a pretty good picture of who we are."
Joliet has now won four of their last five games, scoring eight or more runs in each win. The Generals are off for Fourth of July before a doubleheader on Friday against the Bloomington Bobcats.